Datasheet Infineon 2ED24427N01F — Datenblatt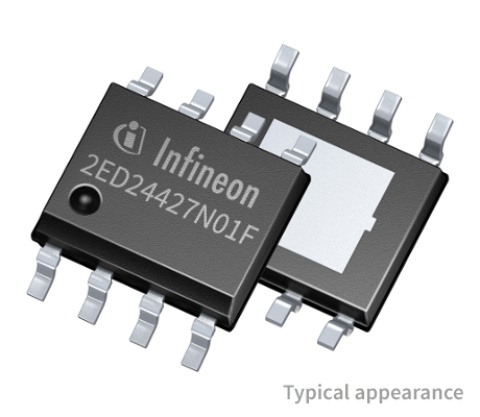 24 V dual-channel low-side gate driver with high current for driving large power switches
Datenblätter
Datasheet 2ED24427N01F
PDF
,
1.3 Mb
, Sprache:
en
, Revision:
02_00
, Datei hochgeladen:
Jan 25, 2021
, Seiten:
21
10 A dual -channel low-side gate driver IC
Preise
Detaillierte Beschreibung
EiceDRIVER™ 24 V dual-channel low-side non-inverting gate driver for MOSFETs or IGBTs with typical 10 A source and sink currents in a DSO-8 package with thermally efficient, exposed power pad. 2ED24427N01F enables higher power and faster switching frequencies in multiple applications with a reduced PCB footprint and increased reliability by simplifying high power density system design.
The 2ED24427N01F is a low-voltage, power MOSFET and IGBT non-inverting gate driver.
Proprietary latch immune CMOS technologies enable ruggedized monolithic construction. The logic input is compatible with standard CMOS or LSTTL output. The output driver features a current buffer stage. The output drivers feature a high pulse current buffer stage designed for minimum driver cross-conduction. Propagation delays between two channels are matched. Internal VCC circuitry provides under voltage lockout protection that holds output low until VCC supply voltage is within operating range.
Status
Modellreihe
Serie: 2ED24427N01F (1)
Herstellerklassifikation