Datasheet AD844 (Analog Devices)
Hersteller
Analog Devices
Beschreibung
60 MHz, 2000 V/μs, Monolithic Op Amp with Quad Low Noise
Seiten / Seite
12

/

1

— DLA LAND AND MARITIME. COLUMBUS, OHIO 43218-3990. STANDARD. …

Dateiformat / Größe
PDF

/

75 Kb
Dokumentensprache
englisch
DLA LAND AND MARITIME. COLUMBUS, OHIO 43218-3990. STANDARD. http://www.landandmaritime.dla.mil. MICROCIRCUIT. DRAWING. 5962-89644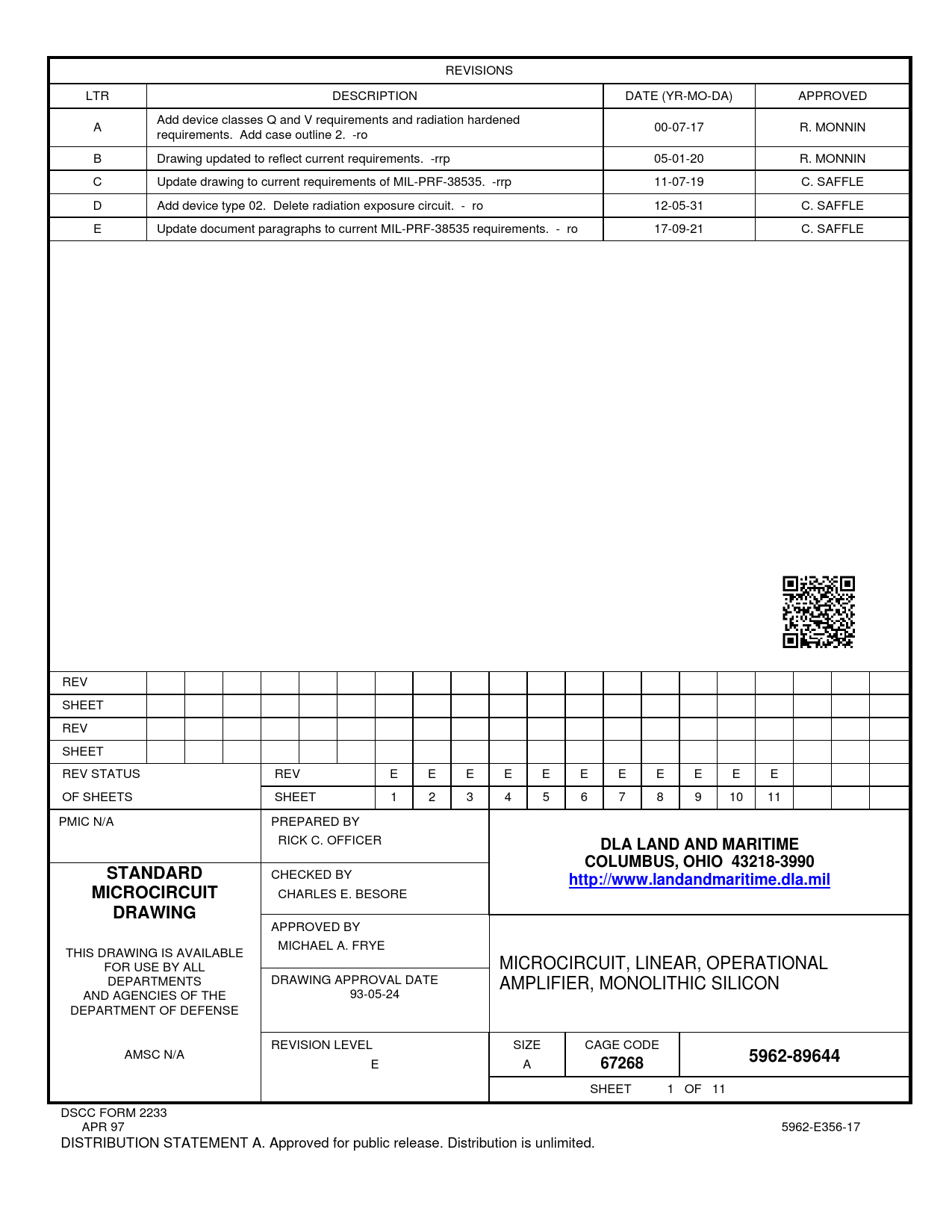 Modelllinie für dieses Datenblatt
Textversion des Dokuments
REVISIONS LTR DESCRIPTION DATE (YR-MO-DA) APPROVED Add device classes Q and V requirements and radiation hardened A 00-07-17 R. MONNIN requirements. Add case outline 2. -ro B Drawing updated to reflect current requirements. -rrp 05-01-20 R. MONNIN C Update drawing to current requirements of MIL-PRF-38535. -rrp 11-07-19 C. SAFFLE D Add device type 02. Delete radiation exposure circuit. - ro 12-05-31 C. SAFFLE E Update document paragraphs to current MIL-PRF-38535 requirements. - ro 17-09-21 C. SAFFLE REV SHEET REV SHEET REV STATUS REV E E E E E E E E E E E OF SHEETS SHEET 1 2 3 4 5 6 7 8 9 10 11 PMIC N/A PREPARED BY RICK C. OFFICER
DLA LAND AND MARITIME COLUMBUS, OHIO 43218-3990 STANDARD
CHECKED BY
http://www.landandmaritime.dla.mil MICROCIRCUIT
CHARLES E. BESORE
DRAWING
APPROVED BY MICHAEL A. FRYE THIS DRAWING IS AVAILABLE FOR USE BY ALL MICROCIRCUIT, LINEAR, OPERATIONAL DEPARTMENTS DRAWING APPROVAL DATE AMPLIFIER, MONOLITHIC SILICON AND AGENCIES OF THE 93-05-24 DEPARTMENT OF DEFENSE REVISION LEVEL SIZE CAGE CODE AMSC N/A
5962-89644
E A
67268
SHEET 1 OF 11 DSCC FORM 2233 APR 97 5962-E356-17 DISTRIBUTION STATEMENT A. Approved for public release. Distribution is unlimited.