Datasheet MAX4162, MAX4163, MAX4164 (Maxim)
Hersteller
Maxim
Beschreibung
UCSP, Micropower, Single-Supply, 10V, Rail-to-Rail I/O Op Amps
Seiten / Seite
13

/

1

— UCSP, Micropower, Single-Supply, 10V,. Rail-to-Rail I/O Op Amps. …

Dateiformat / Größe
PDF

/

331 Kb
Dokumentensprache
englisch
UCSP, Micropower, Single-Supply, 10V,. Rail-to-Rail I/O Op Amps. MAX4162/MAX4163/MAX4164. General Description. Features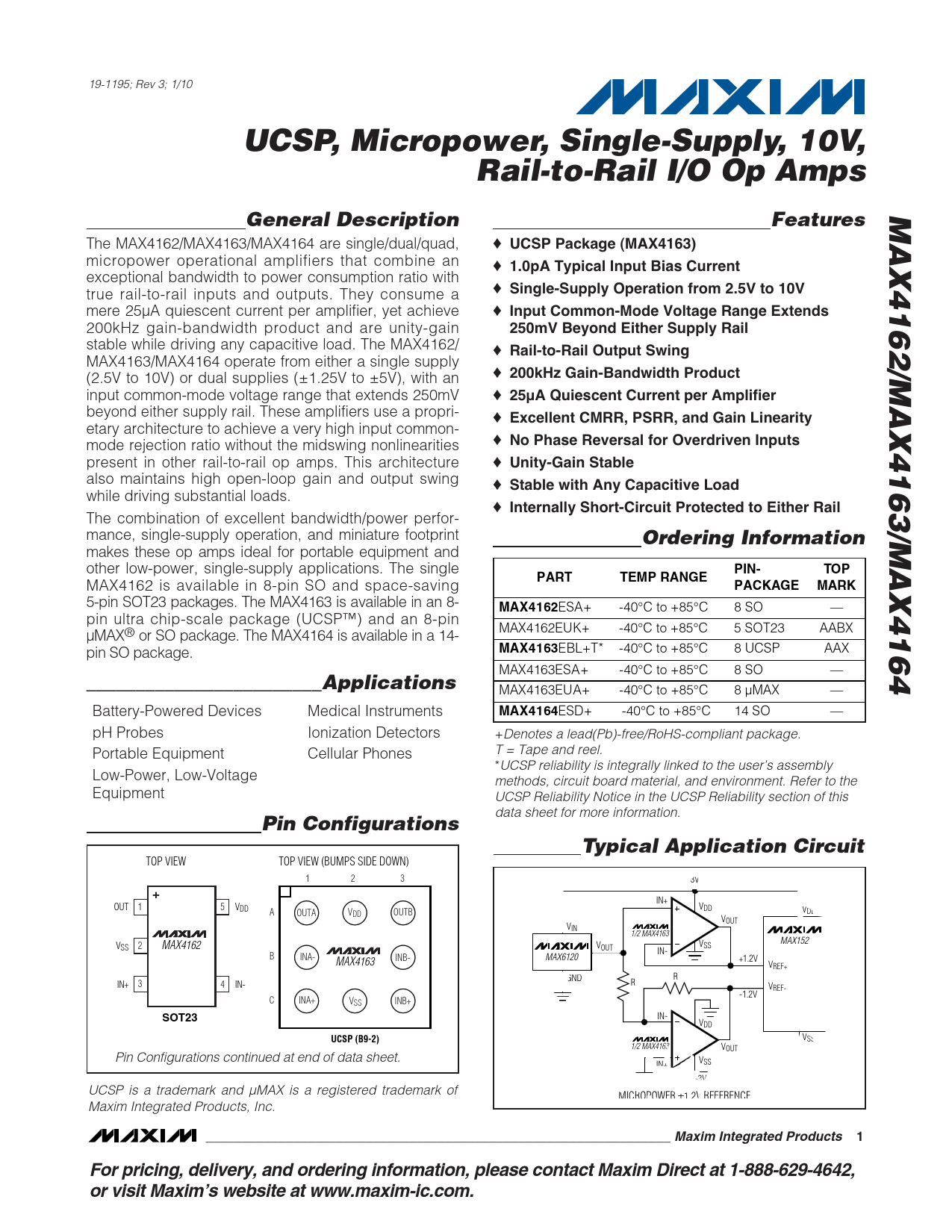 Modelllinie für dieses Datenblatt
Textversion des Dokuments
19-1195; Rev 3; 1/10
UCSP, Micropower, Single-Supply, 10V, Rail-to-Rail I/O Op Amps MAX4162/MAX4163/MAX4164 General Description Features
The MAX4162/MAX4163/MAX4164 are single/dual/quad, o
UCSP Package (MAX4163)
micropower operational amplifiers that combine an o
1.0pA Typical Input Bias Current
exceptional bandwidth to power consumption ratio with true rail-to-rail inputs and outputs. They consume a o
Single-Supply Operation from 2.5V to 10V
mere 25µA quiescent current per amplifier, yet achieve o
Input Common-Mode Voltage Range Extends
200kHz gain-bandwidth product and are unity-gain
250mV Beyond Either Supply Rail
stable while driving any capacitive load. The MAX4162/ o
Rail-to-Rail Output Swing
MAX4163/MAX4164 operate from either a single supply (2.5V to 10V) or dual supplies (±1.25V to ±5V), with an o
200kHz Gain-Bandwidth Product
input common-mode voltage range that extends 250mV o
25µA Quiescent Current per Amplifier
beyond either supply rail. These amplifiers use a propri- o
Excellent CMRR, PSRR, and Gain Linearity
etary architecture to achieve a very high input common- mode rejection ratio without the midswing nonlinearities o
No Phase Reversal for Overdriven Inputs
present in other rail-to-rail op amps. This architecture o
Unity-Gain Stable
also maintains high open-loop gain and output swing o
Stable with Any Capacitive Load
while driving substantial loads. o
Internally Short-Circuit Protected to Either Rail
The combination of excellent bandwidth/power perfor- mance, single-supply operation, and miniature footprint
Ordering Information
makes these op amps ideal for portable equipment and other low-power, single-supply applications. The single
PIN- TOP PART TEMP RANGE
MAX4162 is available in 8-pin SO and space-saving
PACKAGE MARK
5-pin SOT23 packages. The MAX4163 is available in an 8-
MAX4162
ESA+ -40°C to +85°C 8 SO — pin ultra chip-scale package (UCSP™) and an 8-pin MAX4162EUK+ -40°C to +85°C 5 SOT23 AABX µMAX® or SO package. The MAX4164 is available in a 14- pin SO package.
MAX4163
EBL+T* -40°C to +85°C 8 UCSP AAX MAX4163ESA+ -40°C to +85°C 8 SO —
________________________Applications
MAX4163EUA+ -40°C to +85°C 8 µMAX — Battery-Powered Devices Medical Instruments
MAX4164
ESD+ -40°C to +85°C 14 SO — pH Probes Ionization Detectors +Denotes a lead(Pb)-free/RoHS-compliant package. Portable Equipment Cellular Phones T = Tape and reel. *UCSP reliability is integrally linked to the user's assembly Low-Power, Low-Voltage methods, circuit board material, and environment. Refer to the Equipment UCSP Reliability Notice in the UCSP Reliability section of this data sheet for more information.
Pin Configurations Typical Application Circuit
TOP VIEW TOP VIEW (BUMPS SIDE DOWN) 1 2 3 3V
+
IN+ OUT 1 5 V V DD DD VDD A OUTA VDD OUTB VOUT VIN 1/2 MAX4163 MAX152 V V 2 MAX4162 V SS SS OUT IN- B INA- INB- MAX6120 +1.2V MAX4163 VREF+ GND R 3 R IN+ 4 IN- VREF- -1.2V C INA+ VSS INB+ IN-
SOT23
VDD
UCSP (B9-2)
VSS 1/2 MAX4163 VOUT Pin Configurations continued at end of data sheet. VSS IN+ -3V UCSP is a trademark and µMAX is a registered trademark of MICROPOWER ±1 2V REFERENCE Maxim Integrated Products, Inc.
________________________________________________________________ Maxim Integrated Products 1 For pricing, delivery, and ordering information, please contact Maxim Direct at 1-888-629-4642, or visit Maxim's website at www.maxim-ic.com.