Datasheet Infineon 1ED3830MU12M — Datenblatt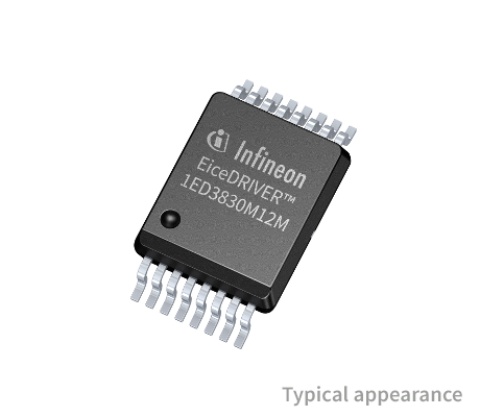 5.7 kV, 3 A single-channel highly flexible isolated gate driver with I2C configurability for DESAT, Soft-Off, UVLO, Miller clamp, TLTO and Fault
Datenblätter
Datasheet 1ED38x0Mc12M (1ED-X3 Digital)
PDF
,
722 Kb
, Sprache:
en
, Revision:
02_00
, Datei hochgeladen:
Dec 21, 2020
, Seiten:
47
EiceDRIVER 1ED38x0Mc12M Enhanced. Single-channel isolated gate driver IC with I2C configurability for DESAT, Soft-off, UVLO, Miller clamp and two-level turn-off
Preise
Detaillierte Beschreibung
EiceDRIVER™ Enhanced single-channel highly flexible isolated gate driver with ±3 A typical sinking and sourcing peak output current in small space-saving DSO-16 fine pitch wide-body package with large creepage distance (>8 mm) for IGBTs, MOSFETs and SiC MOSFETs.
1ED3830MU12M belongs to the EiceDRIVER™ Enhanced 1ED38xx family (X3 digital family).
1ED3830 offers adjustable control and protection functions including DESAT, Soft-Off, UVLO, Miller clamp, two level turn off (TLTO), and Fault, to simplify the design of highly reliable systems. All parameter adjustments are done from the input side via the I2C interface (pin SDA and SCL).
1ED3431xx Analog version available, with active Miller clamp, adjustable DESAT and Soft-off
Status
Modellreihe
Serie: 1ED3830MU12M (1)
Herstellerklassifikation